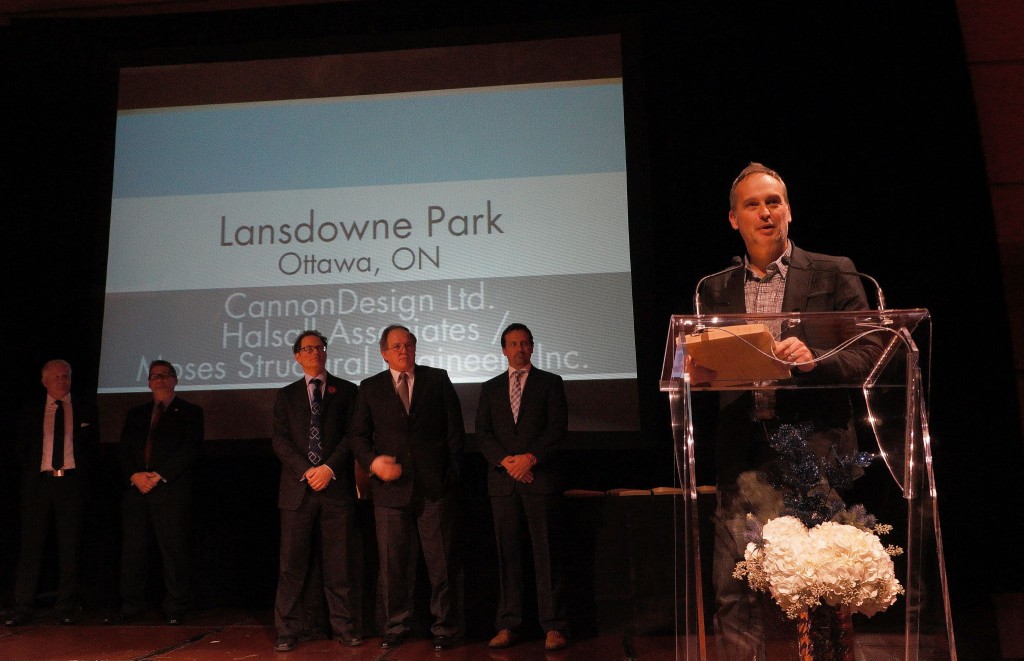 Daniel Soleski, associate vice-president of Cannon Design Ltd., accepts an award for the wood veil at Lansdowne Park in Ottawa—home to the Canadian Football League's (CFL's) Ottawa Redblacks. The award was for commercial/ institutional building projects over $10 million. Photo courtesy Don Procter
On November 12, the Ontario Wood WORKS program's wood design award program celebrated both large and small projects employing forest products in innovative ways.
Among this year's winners were three schools, a recreation complex, single and multi-family residences, and the wood veil at Lansdowne Park's Canadian Football League (CFL) stadium in Ottawa. The award for Engineer Wood Advocate in wood frame went to Blackwell, and ZAS Architects won the Architect Wood Advocate Award.

"The role of wood in commercial and institutional construction is growing," said Marianne Berube, executive director of Ontario Wood WORKS.

She says this year is "particularly special" because the Ontario Building Code (OBC) changes allow for six-storey wood frame construction. Until now, only British Columbia had permitted builders to go higher than four storeys.
---